Welcome to the website of the Generation Chess New York Masters, the tournament open only to players above 2200 USCF!! Some of the best players compete in the NY Masters every week, and a total of 36 GMs, 30 IMs, 47 FMs, 4 WGMs, 4 WIMs and 2 WFMs have come from the 223 Masters who have participated, representing 38 countries.
The Generation Chess New York Masters has given out over $92,200 in prizes!
For a crosstable of last week's 129th Generation Chess New York Masters, please click here.
For a crosstable of this week's 130th Generation Chess New York Masters, please click here.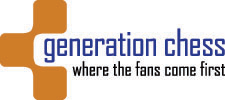 We are excited to announce that this season of the New York Masters will be sponsored by and run in the spirit of Generation Chess! No more quick draws in the final rounds, now the players will have to fight it out! Stay tuned for an exciting 20 weeks, as with Generation Chess on board, there will be more fighting chess than ever!!

---
The Generation Chess New York Masters welcomes PokerStars, the sponsor of Round 3 every Tuesday! Tune in on ICC for Round 3 every week for a chance to win $20 on the same poker site that has produced the last 2 World Champions!! USCF chess expert Ricky Grijalva (gotmilk) qualified for the World Poker Tour Championship on Pokerstars and turned it into $457,000 for only $80!! (Click here to see how he did it!) Get started on Pokerstars today and you could be next!
---

We also welcome JetSetPoker, our sponsor of Round 2 every Tuesday! With JetSetPoker's sponsorship, you will be able to win $20 every week just by watching and guessing the winner! On top of all this JetSetPoker will be offering freerolls (free poker tournaments with cash prizes!) on a regular basis for ICC members! These freerolls will take place on Thursday, October 28th at 9PM; Friday, November 19th at 9PM; Saturday, December 18th at 4PM and Thursday, January 27th at 9PM, and take your shot on JetSetPoker!!

---
For an upcoming schedule of Generation Chess New York Masters tournaments, click on the Crosstables button on the left. Either that, or remember that we have a tournament almost every Tuesday night, barring exceptions for major tournaments in the Northeast US and major holidays.
If you have any questions about the event, if you want to donate, or if you want to play in the event, please contact Greg Shahade at either gregshahade@yahoo.com or call him at 917-294-1338. Any web related questions, contact John Fernandez at jfernandez@jfern.com or call him at 917-771-0102.
Thanks to our sponsors:
Generation Chess - Where the fans come first
Michael Shahade
Pokerstars.com
JetSetPoker.com
The Chess Center of New York - www.chesscenter.cc
Internet Chess Club - www.chessclub.com
Sally Solomon
Harris Appelman
Chess Express - www.chess-express.com
The Totius Group - www.totius.com
Maurice Ashley - www.mauriceashley.com
Parttimepoker.com
Armand Rousso - www.armandrousso.com
Ricky Grijalva
Mike LeGrand
Jennifer Shahade - SuperJenium@aol.com
Arun Sharma
Judy Gilbert
Alanna Kellon
Ben Johnson
Yakov Hirsch
Marc Widmaier
Craig Jones
New England State Championships
Steve Shutt
David John
Peter Yeh
Rajko Vujatovic
Accoona.com, a search engine with interactive tools, Artificial Intelligence and cool SuperTarget Your Search Features in Web, Business and News.
Prenups.com a really cool site for prenuptual agreements, prenup, and for marriage stuff. Don't get married without it!
Buyer's Edge - great shopping comparison engine with great deals on digital cameras, and other consumer electronics.
ExchangePlace.com is a great pay per lead (CPL) marketplace which connects buyers and sellers.
Special thanks to our host - The Marshall Chess Club